The 2020 American Orthopaedic Society for Sports Medicine Virtual Annual Meeting
Lectures and research from Columbia Orthopedics faculty and residents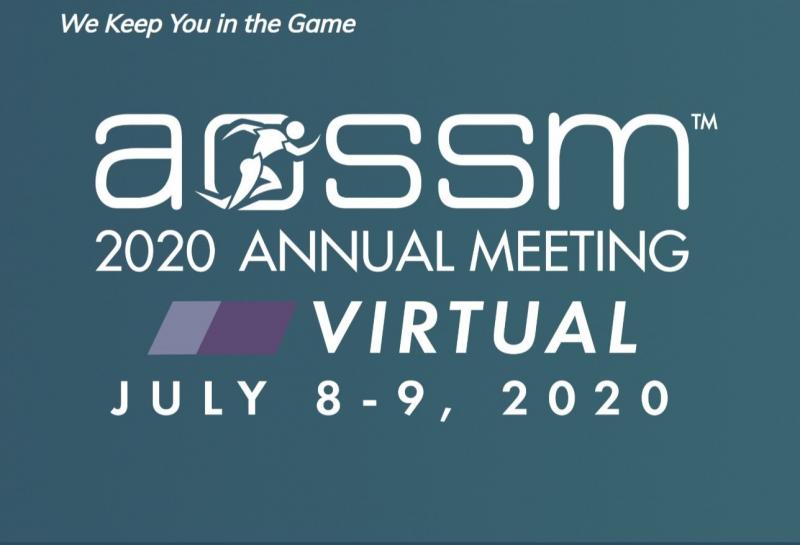 The 2020 American Orthopaedic Society for Sports Medicine (AOSSM) Virtual Annual Meeting will include lectures and presentations from Columbia Orthopedics faculty. AOSSM will take place through July 8 – 9. AOSSM grew out of the American Academy of Orthopaedic Surgeons (AAOS) Committee on Sports Medicine which was organized in 1964. AOSSM provides a scientific outlet for presentation and publication of new ideas; to provide an opportunity for physicians to meet and exchange ideas regarding research, clinical problems, proposals for future progress in sports medicine and a high level publication controlled by the Society.
Award Winning Research by Columbia Orthopedics Faculty
Columbia Orthopedics is thrilled to announce that David P. Trofa, MD was awarded the 2020 American Orthopaedic Society of Sports Medicine (AOSSM) Excellence in Research Award for his study titled "A Hybrid Transtibial Technique Combines the Strengths of AM Portal and Transtibial Approaches: A Prospective Randomized Controlled Trial."
The Excellence in Research Award is given to the best paper that excellence in AOSSM research in any category to the Awards Committee with a primary author under the age of 40 at the time of the Annual Meeting. Winners of the award receive an honorarium of $2000. Dr. Trofa's research presentation is available vitually during the 2020 AOSSM Annual Meeting. 
See below for the syllabus of presentations and lectures being presented by Columbia Orthopedics faculty and residents:
---
Wednesday, July 8
Covid-19: delivering care during and after the pandemic:
8:30pm - How Will You Deliver Care During And After The Covid-19 Pandemic? Christopher S. Ahmad, MD. (Other Panalists: Steven B. Cohen, MD; Jeffery R. Dugas, MD; Bryan T. Kelly, MD) 
---
Paper Presentations
General Session: ACL
Paper 27: Excellence in Research: A Hybrid Transtibial Technique Combines the Strengths of AM Portal and Transtibial Approaches: A Prospective Randomized Controlled Trial. David P. Trofa, MD
General Session: Shoulder Instability I
Paper 53: Shoulder Instability, Performance and Return to Play in National Hockey League Athletes. Hasani W. Swindell, MD
---
Panels
Hip II
Panel Discussion: Biologics and Return to Play. T. Sean Lynch, MD. (Other Panelists: Brian D. Busconi, MD; Benjamin G. Domb, MD; Richard C. Mather III, MD; Jeffrey J. Nepple, MD; Shane J. Nho MD, MS)
---
Instructional Courses
IC206 Round Table 
Ulnar Collateral Ligament Injuries: 2020 Treatment Strategies. Christopher S. Ahmad, MD. (Other Panelists: Brandon J. Erickson, MD; Peter N. Chalmers, MD; Michael G. Ciccotti, MD; Gregory L. Cvetanovich, MD; Joshua S. Dines, MD; Jeffrey R. Dugas MD; Salvatore J. Frangiamore, MD; Anthony A. Romeo, MD; Mark S. Schickendantz, MD)
IC302
Hip Arthroscopy in Athletes – A Sports Specific Approach. T. Sean Lynch, MD. (Other Instructors: Marc R. Safran, MD; JW Thomas Byrd, MD; Christopher M. Larson, MD)