Medical Students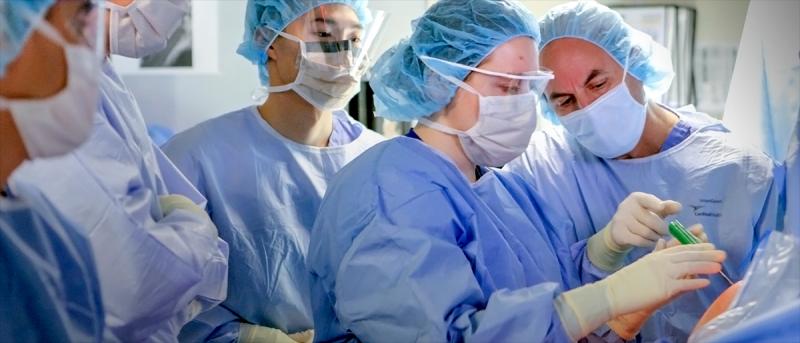 Orthopedic Surgery 'Acting Internship'
Medical students will spend 4 weeks as an 'acting intern' in the Department of Orthopedic Surgery during their 4th year. The acting internship is an intense 4-week rotation meant to simulate life as an intern, spent on one of the 8 subspecialty services. The student will be expected to perform as a true sub-intern on the respective service, and their responsibilities will include those listed under the third year 1-week clerkship in addition to overnight call responsibilities, more advanced history and physical exam skills, in-depth knowledge of orthopedic surgical anatomy, and deeper integration into the teaching program. Significant time will be spent with residents, fellows and attending staff on the respective service. There will be formal and informal presentations including case presentations at the weekly fracture conference, subspecialty conferences, and finally, an end-of-rotation presentation.
Columbia medical students should apply via the Office of Curricular Affairs.
Visiting medical students should apply through VSLO. 
For further information, please contact: pselectives@cumc.columbia.edu
First Day Meeting Instructions
You will be contacted by Dr. Alexander Neuwirth, Associate Residency Program Director, for your subspecialty team assignment prior to your acting internship month.
Students should plan to meet at 6 am in the Russell Hibbs Library on PH11. This is located at 622 West 168th Street (Presbyterian Hospital Building). You will meet with the 2 administrative chief residents to discuss the specific logistics, goals, objectives, and other critical information.
First day of session at PH site, students will present at center wing (PH11-1130) to sign-out textbook.
Daily and weekly assignments will be given at that time. For visiting students, basic orientation and IDs will be obtained on the first day as well.
---
Columbia Longitudinal Information Program (CLIP)
In the absence of 'away' sub-internships over the last academic year, CLIP provided a great way for students, residents and faculty to virtually engage over a span of months. CLIP will not be offered this year, but you may access CLIP 2020 and CLIP 2021 at the links below:
---
Third-Year Students
Medical students spend one week on the orthopedic surgery service during their Major Clinical Year (MCY) of medical school. They are expected to learn how to take an orthopedic medical history, perform a thorough physical exam of the musculoskeletal system, and be familiar with the more common orthopedic problems such as back and neck pain, hip fractures, osteoporosis, and so forth. The students are assigned to the attending surgeons on the trauma, adult reconstruction, hand/microvascular, bone disease, and pediatric orthopedic services and are under the surgeons' direct supervision. The students' knowledge and competence is assessed by the supervising attending.
At the end of the rotation, students should be able to:
Take an orthopedic history and perform an orthopedic physical examination.
Understand the pathophysiology of the more common orthopedic disorders.
Identify the basic diagnostic and therapeutic approaches to common musculoskeletal disorders (both medical and surgical).
Leave with a sense of how an orthopedic service is administered and its relationship to other medical disciplines.
First Day Meeting Instructions
Administrative receptionist will email student, preceptor and chief residents meeting instructions for first day of session.
Instructions for students rotating at the PH site are as follows: Meet at 6:50 am at PH11-1139 (Russell A. Hibbs Library)
First day of session at PH site, students will present at center wing (PH11-1130) to sign-out textbook.
Immediately following each session, textbooks will be returned.