Dr. Charles Popkin: Head Team Physician for Bronze-Winning IIHF U.S. Mens Hockey Team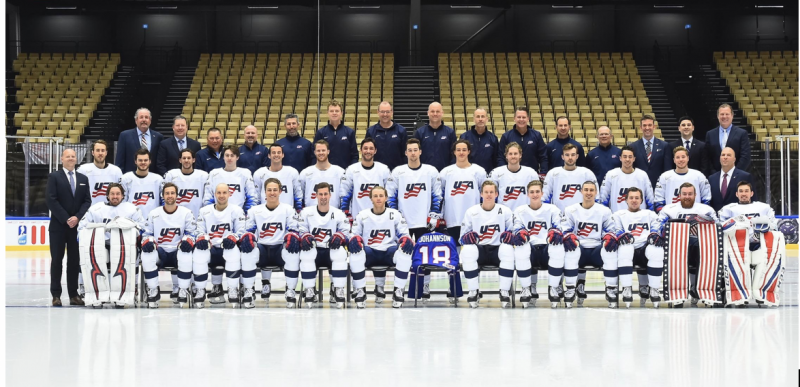 From April 28 to May 20, Columbia Orthopedics sports medicine specialist Charles A. Popkin, MD was the head team physician for the bronze-winning U.S. Men's Hockey National Team as they competed at the 2018 International Ice Hockey Federation (IIHF) Men's World Championship in Herning and Copenhagen, Denmark.
The team, comprised of NHL players, included: Patrick Kane, Cam Atkinson, Will Butcher, Johnny Gaudreau, Chris Kreider, Dylan Larkin, Anders Lee, Charlie McAvoy, and Connor Murphy. They were coached by Red Wings Head coach Jeff Blashill and was selected by Columbus Blue Jackets GM Bill Zito. Dr. Popkin was selected for the role by the Chief Medical Officer of USA Hockey and Chairman of Orthopedic Surgery at the Mayo Clinic, Dr. Michael J. Stuart.
"Being selected by Dr. Stuart to represent USA hockey for this tournament as the head physician was a dream come true," said Dr. Popkin. "The trip and experience was incredible, exciting, and unbelievably rewarding. The level and quality of hockey was exceptional and everything USA Hockey did was first class."
There are many reasons why the team was so successful at the 2018 tournament. The team spent the preliminary round in Herning, a smaller city than Copenhagen, which helped eliminate distractions to bond. Great communication between the team and coaches made it easier for the team to play at the top of their game. This was the first major tournament since the passing of Jim Johansson, the previous general manager of USA Hockey who was beloved by the team and coaching staff.
"They really wanted to win this one for JJ," said Dr. Popkin. "There were a lot of stars on that team, but they put their ego aside to honor his legacy." As team physician, Dr. Popkin not only treated orthopedic emergencies, like fractures, contusions and sprains he treated upper respiratory infections, food poisoning, dental trauma and a severe allergic reaction as well. He was also responsible for treating anyone affiliated with the team, expanding the list of people who were in his care.
"The medical bag I took with me was intense – it was like a MASH unit," said Dr. Popkin.
Working abroad gave Dr. Popkin perspective on his role in the international healthcare community. Team physicians from all the participating countries would meet to discuss challenging cases and assist in treatment. 
"If we didn't have the medication required, doctors from Denmark or the European Union countries would write us a prescription," said Dr. Popkin. "The medical camaraderie was just fantastic. It felt great to represent my country and it was an awesome opportunity to hone my medical skills. As a bonus: it was pretty amazing to beat Canada twice."
Follow Dr. Popkin on Twitter for more insights on treating hockey injuries. Read Dr. Popkin's USA Hockey bio here.