Choosing Columbia
Make an Appointment
Our team is here to help you make an appointment with the specialists that you need.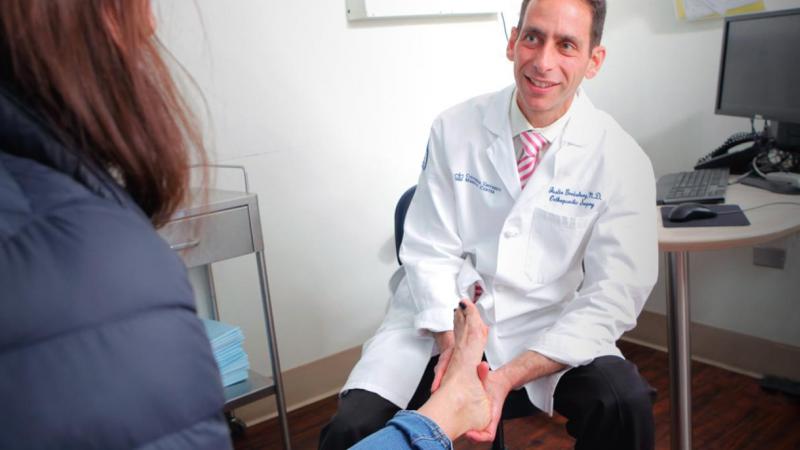 Our Mission
The foot and ankle together make a complex "machine" of 26 bones and joints, working together to keep you moving. In the best of times, all the individual pieces come together to play like a fine symphony.

The history of foot and ankle care at Columbia is long and rich. 100 years ago, Dr. Dudley Morton, a Columbia anatomist, defined the modern concepts of foot structure and function. Today, our surgeons continue the tradition of excellence in clinical care, education and research, offering both non-surgical and – where needed – advanced surgical care to optimize recovery and avoid long-term complications.
Expert Care
The Foot and Ankle team at Columbia Orthopedics provides operative and non-operative treatment for all foot and ankle disorders. We have training and expertise in complex surgeries, including ankle arthroplasty, limb realignment, diabetic foot reconstruction, osteotomies and fusions for deformity correction, repair of fractures and/or non-unions of the lower leg, ligament and tendon repair and reconstruction, and ankle arthroscopy.

We also treat common conditions such as foot or ankle arthritis, flat feet, high arched or cavus feet, tendinitis (including Achilles, anterior or posterior tibial, and peroneal), foot and ankle sprains, bunions, diabetic foot pathology, including Charcot foot, and athletic injuries to the lower leg.

Our Foot and Ankle surgeons are trained in trauma surgery and participate in the Orthopedic Trauma Service in NewYork-Presbyterian Hospital/Columbia University Irving Medical Center, where patients receive comprehensive care through a full complement of services and collaboration with other medical and surgical specialties.
Personalized Approach
Every patient is unique, and our dedicated team of medical professionals designs treatment programs to fit the individual needs of each patient. Whether you have a common orthopedic condition or require advanced reconstructive surgery, our goal is to provide education that will enable you to choose the best possible treatment option and begin the process of healing and recovery.
---