Sports Medicine Fellowship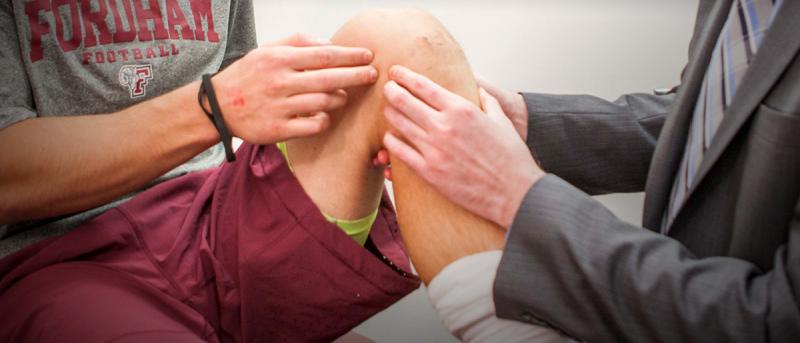 Sports Medicine Fellowship
The Columbia Sports Medicine Fellowship has its roots in the Shoulder and Elbow Fellowship started by Dr. Charles Neer in 1977. Since then, the fellowship has trained numerous national and international leaders in the field of shoulder and elbow surgery. Since 2001, with the addition of a sports medicine focus, Columbia has been the only Shoulder and Elbow Fellowship that is ACGME-accredited in Sports Medicine, allowing our 2 fellows the unique opportunity to take the Subspecialty Certification (SSC) in Sports Medicine at the end of their fellowship. As our department has grown, so too has our complement of orthopedic sports medicine specialists. We have transitioned one of our fellows to the Orthopedic Sports Medicine match just graduated our first sports medicine fellow.
The Columbia fellowship offers an excellent balance of professional team coverage and technical operative experience, including a unique approach to technical skill instruction, which has given me the confidence to interact with and surgically treat elite athletes.
Justin Hodgins, MD, FRCSC
Operative experience for the sports medicine fellow includes advanced knee, hip, shoulder and elbow arthroscopy in the adult and pediatric sports medicine populations. Additionally, open shoulder experience will be available. This extensive arthroscopy core curriculum experience will be enhanced by a monthly arthroscopic curriculum utilizing our state of the art simulation center at the medical school ensuring fellows ongoing education and development of surgical techniques.
Secondarily, the fellowship will develop team physicians with team coverage experiences ranging from high school to professional opportunities with an emphasis on developing a well-rounded team doctor capable of handling not only orthopedic issues, but also primary care conditions in the training room.
The sports medicine fellow will have a full day per week dedicated to academic pursuits. During this time, they will be able to participate in clinical research as well as participate in translational research in the Dr. Robert E. Carroll and Jane Chace Carroll Laboratories led by Stavros Thomopoulous, PhD. Fellows are also invited to assist in the preparation of invited manuscripts, book chapters, and online projects. As our previous shoulder and elbow fellows have garnered international acclaim, we anticipate the same success for our future sports fellows.