Shoulder and Elbow Fellowship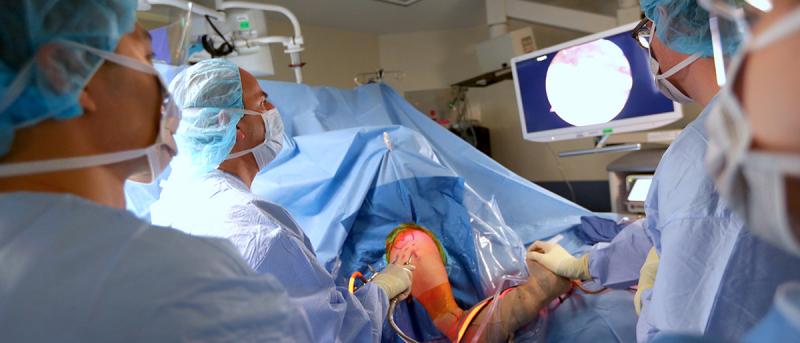 Shoulder and Elbow Fellowship
The Columbia Shoulder and Elbow Fellowship, founded in 1977 by Dr. Charles S. Neer II, is honored as the first and most prestigious in the world. Since its founding, our service has been responsible for training over 100 fellows both nationally and internationally. Among our alumni are many of the leading figures in the Shoulder and Elbow community, including fellowship directors, chiefs of service, and department chairs.
Mentorship is perhaps the most important aspect of fellowship, and the guidance provided at Columbia is unparalleled. The limited number of fellows combined with enthusiastic faculty creates a strong relationship that continues long after fellowship. CSES provides exposure to a variety of surgical cases and didactic teaching, improving both surgical skills and clinical problem-solving. The research infrastructure and staff enable fellows to initiate and execute meaningful research even in a short period of time. I continue to stay in close touch with Dr. Levine and Dr. Ahmad about challenging cases, career advice, and personal life. The family atmosphere at the Columbia fellowship alumni gatherings is what makes these events so enjoyable.
Ian Byram, MD
Fellow 2011-2012
Today, the Shoulder, Elbow and Sports Medicine Division, led by world-renowned faculty, has developed into one of the finest training programs in the world. Our fellows participate in all aspects of clinical care – including skill development in private office hours, with emphasis on physical exam proficiency, MRI interpretation, and optimal treatment plan recommendations. All aspects of shoulder and elbow are cared for by our service – arthroscopy, trauma, and arthroplasty. In addition, our fellows stay on top of innovative and cutting edge procedures to broaden their scope of practice and enhance their competitive hiring potential. Furthermore, both basic and clinical research opportunities have been incorporated into the fellowship, allowing our fellows the opportunity to become academic experts.
Operative experience for the Shoulder and Elbow Fellow includes a wide spectrum of shoulder and elbow abnormalities. Procedures are tailored to address conditions ranging from common problems such as impingement to complex reconstructions for arthritis, fractures, instability, and rotator cuff tears. In addition to the focus on advanced open shoulder and elbow procedures the program includes extensive arthroscopy training. The arthroscopy core curriculum experience is enhanced by a state of the art 4 station arthroscopy laboratory, which ensures fellows ongoing education and development of surgical techniques.
The Shoulder and Elbow Fellow will have a full day per week dedicated to academic pursuits. During this time, they will be able to participate in clinical research as well as participate in translational research in the Dr. Robert E. Carroll and Jane Chace Carroll Laboratories under the supervision of Stavros Thomopoulous, PhD. Fellows are also invited to assist in the preparation of invited manuscripts, book chapters, and online projects. As our previous shoulder and elbow fellows have garnered international acclaim, we anticipate the same success for our future fellows.
In addition, the Fellow will have exposure to team physician coverage experiences ranging from collegiate to professional opportunities. This game coverage experience will help develop a well-rounded ability to handle orthopedic sports medicine issues specifically where and when we anticipate shoulder and elbow injuries will occur.