Scoliosis and Spine Physical Therapy
Make an Appointment
Our team is here to help you make an appointment with the specialists that you need.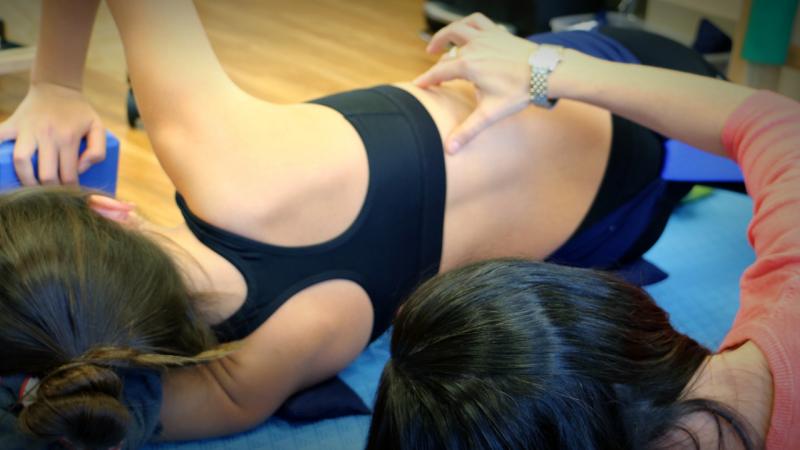 About Our Program
Our clinic specializes in scoliosis specific physical therapy through the Schroth method from the Barcelona Scoliosis Physical Therapy School (BSPTS) and the Scientific Exercise Approach to Scoliosis (SEAS) method by the Italian ISICO school. Our practitioners are trained at an advanced level in both schools. We will help develop an individualized plan for your specific scoliosis pattern, posture, and lifestyle. We are the first clinic in the country that was founded and supported by an orthopedic surgeon who sought a non-operative option for his patients. Our therapists routinely speak at national and international conferences on the advancement of non-operative management of spinal deformity. We benefit from mentorship and collaboration with Hagit Berdishevsky, who serves as an Outreach Liaison. We partner with her in creating continuing education, research endeavors, and clinical advancement.
Your experience with us will begin with a detailed evaluation to include a thorough assessment of your alignment, mobility, and movement patterns. You will work collaboratively with your physical therapist, family, and other members of your healthcare team to develop a program specific to your individual needs and with careful consideration of your particular scoliosis curve pattern. Common interventions may include manual therapy to address pain, mobility and soft tissue restrictions, neuromuscular and respiratory training to improve coordination, endurance, and alignment. We treat patients across the lifespan, as young as 5 and old as 105! We accept many insurance plans for 1:1 visits, routinely see out-of-town patients for intensive sessions, and have ongoing weekly scoliosis specific exercise groups for wellness.
We also treat patients with back, neck, shoulder, and hip pain, using a comprehensive evaluation, looking at all the factors that can affect your pain, and limitations in function. We develop a plan for intervention thinking about the resources a patient has access to as well their individual schedules, to allow our patients to achieve their goals.
Personalized Approach
We pride ourselves on providing patients with efficient, expert, and compassionate care. Our physical therapists collaborate with Columbia Orthopedics surgeons and referring physicians to provide each patient with a thorough understanding of his or her condition and a safe cutting-edge approach to treatment. This combination of expert care and personalized approach is the hallmark of patient care at Columbia. Contact us today to learn more or set up an appointment.
Locations
NYP Morgan Stanley Children's Hospital
United States
Open location in Google Maps
590 Fifth Avenue, 5th Floor
United States
Open location in Google Maps