Scoliosis and Spine Physical Therapy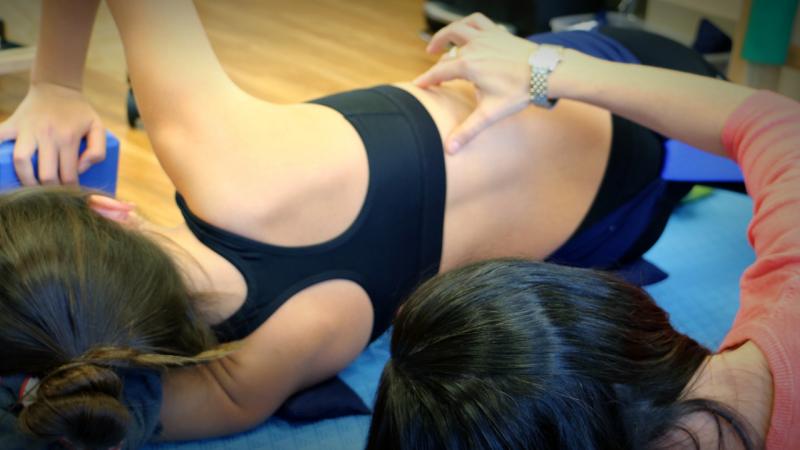 Spine Therapists
Prachi Bakarania, DPT

Co-Director – Nonoperative Care for Spine and Scoliosis

Prachi Bakarania, currently serves as the clinic's Co-Director and has been a PT for over a decade. She initially became interested in scoliosis when she was practicing PT abroad in the Netherlands. When she returned to the US, she became BSPTS certified and quickly learned her passion for working with this population. An active researcher, Prachi is currently looking at the role of the sagittal plane, loss of lumbar lordosis, and its role in patient's who have thoracolumbar scoliosis and chronic low back pain. She is also studying the factors that determine success of compliance in adolescents wearing their brace and doing their scoliosis specific exercises. Prachi holds a Doctorate of Physical Therapy from Boston University in 2006. She is an active member of SOSORT (Society on Scoliosis Orthopedic and Rehabilitation Treatment) and serves as the Communication Chair and the APTA. She regularly speaks at national and international conferences/courses about her work in this field.

Kelly Grimes, DPT

Kelly Grimes is passionate about improving public and professional awareness of scoliosis management. Prior to joining the Columbia Non-Op Spine and Scoliosis team, she was a clinical faculty member at the Kaiser Southern California Orthopedic Residency and has continued her role as an instructor with Movement Links, Inc. Kelly is involved in furthering clinical quality of care by assisting, instructing, and presenting at various forums locally, nationally, and internationally. Kelly holds degrees from UCLA and Mount St. Mary's College and she received her Doctorate of Physical Therapy in 2006. She is an active member of SOSORT (Society on Scoliosis Orthopedic Rehabilitation and Treatment) and the American Physical Therapy Association (APTA).

Evan K. Johnson, DPT

Director of Och Spine Care Outpatient Physical Therapy

Dr. Evan Johnson practices physical therapy focusing on spine care in midtown Manhattan as part of the Department of Orthopedic Surgery at Columbia University Irving Medical Center. Dr. Johnson teaches physical examination, manual therapies, and therapeutic exercise related to the spine and extremities in Columbia University's Program in Physical Therapy, as well as Columbia University Irving Medical Center's Pain Medicine Fellowship and Rehabilitation Medicine Residency. He has held multiple committee memberships in North American Spine Society and has participated in the review of national guidelines on spine care for the American Physical Therapy Association. Dr. Johnson is certified by the American Board of Physical Therapy Specialties as an Orthopedic Clinical Specialist and is a Certified Manual Therapist. He is recognized by the Marquis Who's Who in American Healthcare as a leader in the field of physical therapy.
About Our Program
Our clinic specializes in scoliosis specific physical therapy through the Schroth method from the Barcelona Scoliosis Physical Therapy School (BSPTS) and the Scientific Exercise Approach to Scoliosis (SEAS) method by the Italian ISICO school. Our practitioners are trained at an advanced level in both schools. We will help develop an individualized plan for your specific scoliosis pattern, posture, and lifestyle. We are the first clinic in the country that was founded and supported by an orthopedic surgeon who sought a non-operative option for his patients. Our therapists routinely speak at national and international conferences on the advancement of non-operative management of spinal deformity. We benefit from mentorship and collaboration with Hagit Berdishevsky, who serves as an Outreach Liaison. We partner with her in creating continuing education, research endeavors, and clinical advancement.
Your experience with us will begin with a detailed evaluation to include a thorough assessment of your alignment, mobility, and movement patterns. You will work collaboratively with your physical therapist, family, and other members of your healthcare team to develop a program specific to your individual needs and with careful consideration of your particular scoliosis curve pattern. Common interventions may include manual therapy to address pain, mobility and soft tissue restrictions, neuromuscular and respiratory training to improve coordination, endurance, and alignment. We treat patients across the lifespan, as young as 5 and old as 105! We accept many insurance plans for 1:1 visits, routinely see out-of-town patients for intensive sessions, and have ongoing weekly scoliosis specific exercise groups for wellness.
We also treat patients with back, neck, shoulder, and hip pain, using a comprehensive evaluation, looking at all the factors that can affect your pain, and limitations in function. We develop a plan for intervention thinking about the resources a patient has access to as well their individual schedules, to allow our patients to achieve their goals.
Personalized Approach
We pride ourselves on providing patients with efficient, expert, and compassionate care. Our physical therapists collaborate with Columbia Orthopedics surgeons and referring physicians to provide each patient with a thorough understanding of his or her condition and a safe cutting-edge approach to treatment. This combination of expert care and personalized approach is the hallmark of patient care at Columbia. Contact us today to learn more or set up an appointment.
Locations
NYP Morgan Stanley Children's Hospital
United States
Open location in Google Maps
590 Fifth Avenue, 5th Floor
United States
Open location in Google Maps