NYP Morgan Stanley Children's Hospital – Urgent Access
What to Expect at Your Child's Upcoming Appointment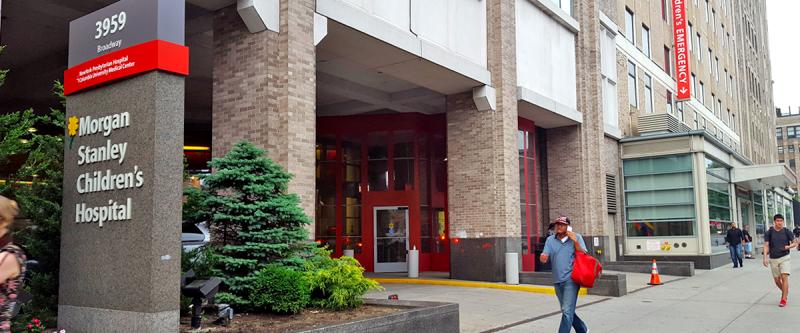 The health and safety of our patients, providers, and staff is our top priority.
Your upcoming visit will be conducted according to safety protocols established by Columbia University Irving Medical Center and NewYork-Presbyterian. These appointments will require extra time and patience for all involved.
To ensure that your child's visit goes smoothly, please review all of the information below. If you have any questions, do not hesitate to reach out to your doctor's office, or to our appointment scheduling team.
Confirm that you have access to the Connect Patient Portal and your child's MyChart account.
Access to the patient portal is crucial for ensuring an efficient visit.
If you do not have an account linked to your child's medical record, visit myconnectnyc.org, complete the form, and respond to the security questions to confirm your identity.
Pre-register for your child's visit via the Connect Patient Portal
Install the MyChart app on your mobile device via the App Store (iOS) or Google Play (Android).

Once in the app, search for "Columbia University Irving Medical Center," and select it as your primary institution.
Complete all required forms online before you arrive.
Avoid unnecessary time in the waiting room and potential delays to the start of your appointment. Follow the steps below:
Using your computer:
Log into the patient portal at myconnectnyc.org.
Click on the Health icon at the top of the screen and select the link to Questionnaires listed under Medical Tools
Click on each item associated with your upcoming orthopedics appointment and complete the forms fully.
You will be able to save your progress along the way if you are interrupted and need to finish later.
Using the MyChart App:
Log into the MyChart app on your mobile device (see setup instructions above)
Click on the Questionnaires icon in the main menu
Click on each item associated with your upcoming orthopedics appointment and complete the forms fully.
You will be able to save your progress along the way if you are interrupted and need to finish later.
Patients requiring x-rays or imaging:
Plan to enter the building 30 minutes before your scheduled appointment time.
All other patients:
Plan to enter 15 minutes prior to your appointment time, allowing for screening and check-in.
Please do not arrive earlier than the designated timeframe
Our goal is to minimize the number of people in our offices and waiting rooms to protect everyone's safety. If you arrive early, please wait in your car or outside of the building until the appropriate time.
Paid parking is available in a public lot located at 115 Ft Washington Avenue, located on the south-west corner of 165th Street and Ft. Washington Avenue.
Valet parking is available at the main entrance to the children's hospital building at 3959 Broadway @ W 165th Street.
The following safety precautions will be taken for your safety, and the safety of our staff:
Patient Screening: In addition to pre-screening for COVID-19 symptoms before you arrive, you will be screened upon your arrival via temperature check and several brief questions.
Mask Use: All individuals in Columbia and NYP clinical facilities must wear a mask at all times. Patients and anyone accompanying them will be provided with a mask upon arrival if they do not already have one.
Hand Washing: When you arrive at the office we kindly request that you wash your hands, or sterilize them with available hand sanitizer.
Personal Protective Equipment: Our care teams follow CDC guidelines, have the proper personal protective equipment (PPE) and wear it at all times. We have also established screening and testing protocols for our care teams.
Cleaning and Disinfecting: Our locations are repeatedly and thoroughly sanitized throughout each day. Exam rooms are cleaned extensively between patient visits.
Visitors: For your safety, and the safety of our patients and staff, there are limitations on visitors who may accompany patients inside our offices for their appointment.

Minors below the age of 17 may be accompanied by one parent or guardian
Adults with mobility or cognitive impairment may be accompanied by one other person
Please contact your provider's office with any questions about your specific circumstances or needs.
After completing your COVID safety screening and checking in at the security desk, follow the stars on the floor and signs to the Central Elevators.
Take the central elevators to the third floor. Turn left out of the elevators and left again down the hallway, following signs for Radiology.
After passing through the fire-door, take your first left through the double doors and into the Radiology registration and waiting area.
Check in at the Radiology registration desk and follow their instructions to complete your imaging safely.
Once your X-Rays are complete, return to the Central Elevators and take them to Orthopedics on the 8th floor.
After any required x-rays and imaging are completed, and you have checked in at the Columbia Orthopedics front desk, a member of our clinical team will escort you and your child directly to the examination where you will see your provider.
Virtual Walk-Through